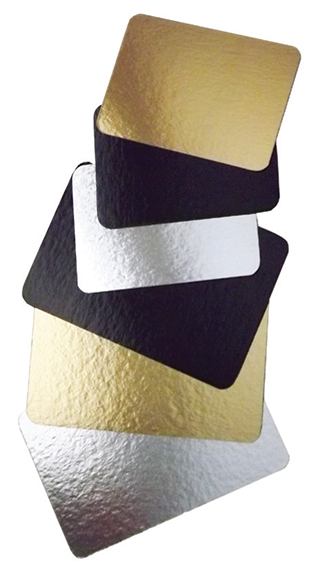 SAMMY FISH BOARDS
Sammy Board is the AIB audited food safe solution for all your smoked fish packaging needs. It is engineered to be cost effective, attractive, and durable. Sammy Board is moisture resistant and designed to withstand freezing, wet, and oily environments.
Sizes
Orders are cut to customer specifications. We can cut any size or shape required. Our typical boards are rectangular will all four corners round cut. We can die cut circles, fluted circles and any shape that is needed.
Thickness
Our fish board comes in four thicknesses: 0.8mm, 1.0mm, 1.27mm and 1.4mm.
Color combinations
Gold/Silver, (gold one side and silver one side), Gold/Black, Non Metallic Gold/Black, Non Metallic Gold/Gold, Non Metallic Gold/Silver, Black/Black and White/White.
PRINTED BOARDS
Printed Sammy Boards can contribute to product image, proper presentation of information, gives a sense of confidence and provides protection against damage. Enhanced product, presentation, product differentiation and added value. Together we will be able to create a custom printed board that meets your needs.
SAMMY PLUS
Lamitech has developed a slip resistant board for companies running frozen product. Sammy Plus can be used with manual or automatic packaging lines.
VACUUM POUCHES
Lamitech can provide a broad variety of vacuum pouches: clear, vista style, and printed. Seal in freshness with FDA and USDA approved vacuum pouches. Various sizes, colors and style options available for your food packaging needs. We can add any features to the pouches that you desire: zip lock, tear notch, hang hole. Stock sizes are available and competitively priced
BOXES
A seafood box designed specifically for fresh or frozen seafood; A 100% recyclable, eco-friendly replacement for EPS foam and waxed cardboard packaging.We use paperboard in the manufacturing of folding cartons, which is a thick paper-based material. We offer many options in terms of finishing, and unlimited possibilities in terms of colour. Versatility is the biggest advantage for this type of packaging
A major advantage of the folding carton is the shipping ability as they have the ability to ship flat to the consumer. These boxes are easy to assemble and commonly come in one piece. Folding cartons are perfect for seafood products of all sizes and can also help market your business.
There are many other advantages to using the folding carton of course. Some of these advantages include:
Printing Capabilities
Rigidity and Freedom of Structure
Unlimited Design Options
Sustainability 
CUSTOM SHAPES
We can die cut circles, fluted circles and any shape that is needed. A custom shape designed specifically for your product that will add significantly increased marketability. These specially shaped boards helps to present and protect your product with great efficiency.
SLEEVES

Packaging sleeves are a quick and effective branding solution for any product. Also called Belly Bands, these can make any merchandise look professional even if it's not inside a box. Aside from your brand logo, box sleeves also work for product information and even as quick packaging to complement holidays and limited edition offers.