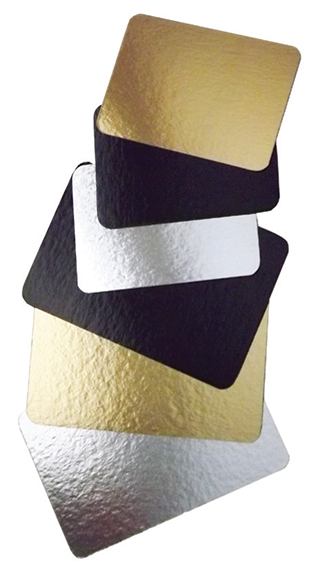 SAMMY FISH BOARDS
Sammy Board is the AIB audited food safe solution for all your smoked fish packaging needs. It is engineered to be cost effective, attractive, and durable. Sammy Board is moisture resistant and designed to withstand freezing, wet, and oily environments.
Sizes
Orders are cut to customer specifications. We can cut any size or shape required. Our typical boards are rectangular will all four corners round cut. We can die cut circles, fluted circles and any shape that is needed.
Thickness
Our fish board comes in four thicknesses: 0.8mm, 1.0mm, 1.27mm and 1.4mm.
Color combinations
Gold/Silver, (gold one side and silver one side), Gold/Black, Non Metallic Gold/Black, Non Metallic Gold/Gold, Non Metallic Gold/Silver, Black/Black and White/White.
PRINTED BOARDS
Printed Sammy Boards can contribute to product image, proper presentation of information, gives a sense of confidence and provides protection against damage. Enhanced product, presentation, product differentiation and added value. Together we will be able to create a custom printed board that meets your needs.
SAMMY PLUS
Lamitech has developed a slip resistant board for companies running frozen product. Sammy Plus can be used with manual or automatic packaging lines.
CUSTOM SHAPES
We can die cut circles, fluted circles and any shape that is needed. A custom shape designed specifically for your product that will add significantly increased marketability. These specially shaped boards helps to present and protect your product with great efficiency.
VACUUM POUCHES
Lamitech can provide a broad variety of vacuum pouches: clear, vista style, and printed. Seal in freshness with FDA and USDA approved vacuum pouches. Various sizes, colors and style options available for your food packaging needs. We can add any features to the pouches that you desire: zip lock, tear notch, hang hole. Stock sizes are available and competitively priced